Apple is making its Self Service Repair available in a eight European countries. This will help consumers to keep products for longer instead of purchasing new ones. At the same time, the service has faced some criticism for being too difficult for the average consumer to manage.
Since December, Apple Self Service Repair is available in Belgium, Germany, France, Poland, Spain, the United Kingdom and Sweden. Residents of those countries can now purchase spare parts for their iPhone 12, 13 or third-generation SE from the Apple Self Service Repair Store. The tech giant also sells parts for modern MacBooks and additionally rents out sets of repair equipment. The manufacturer claims it supplies "more than 200" individual parts, tools and repair manuals for these devices.
Self Service Repair allows users to do "the most common repairs" themselves with the same tools and manuals that Apple itself uses when repairing hardware. This means customers can only fix commonly serviced parts of their devices, including the battery, speaker, camera and display. The tools offered through Self Service Repair include torque drivers, repair trays, display and battery presses, and more. Users will be able to fix their own devices by buying parts and tools and watching online tutorials. Apple also offers weeklong tool rental kits, enabling customers who do not want to purchase tools for a single repair, to use these professional repair tools.
How do I fix this?
After its first launch in the United States in November 2021, the new service of Apple has, faced some criticism for being too difficult for the average consumer to manage. The program reportedly only enables customers who are experienced with the complexities of repairing electronic devices, to complete their own repairs, using the same manuals, parts, and tools as Apple Store locations and Apple Authorized Service Providers. Tech journalist Brian Chen described his own attempt at repairing an iPhone as a disaster in the New York Times. "I destroyed my iPhone screen in a split second with an irreversible error," he wrote in his article. There are, for example, 16 tools and a combination of 61 steps required to remove and then replace the screen on an iPhone 13, which has an 81-page repair manual. According to critics, for the vast majority of customers who do not have experience repairing electronic devices, visiting a professional repair provider with certified technicians who use genuine Apple parts is probably still the safest and most reliable way to get a repair. Moreover, the firm itself maintains that only those who are "comfortable" with carrying out their own repairs should attempt it.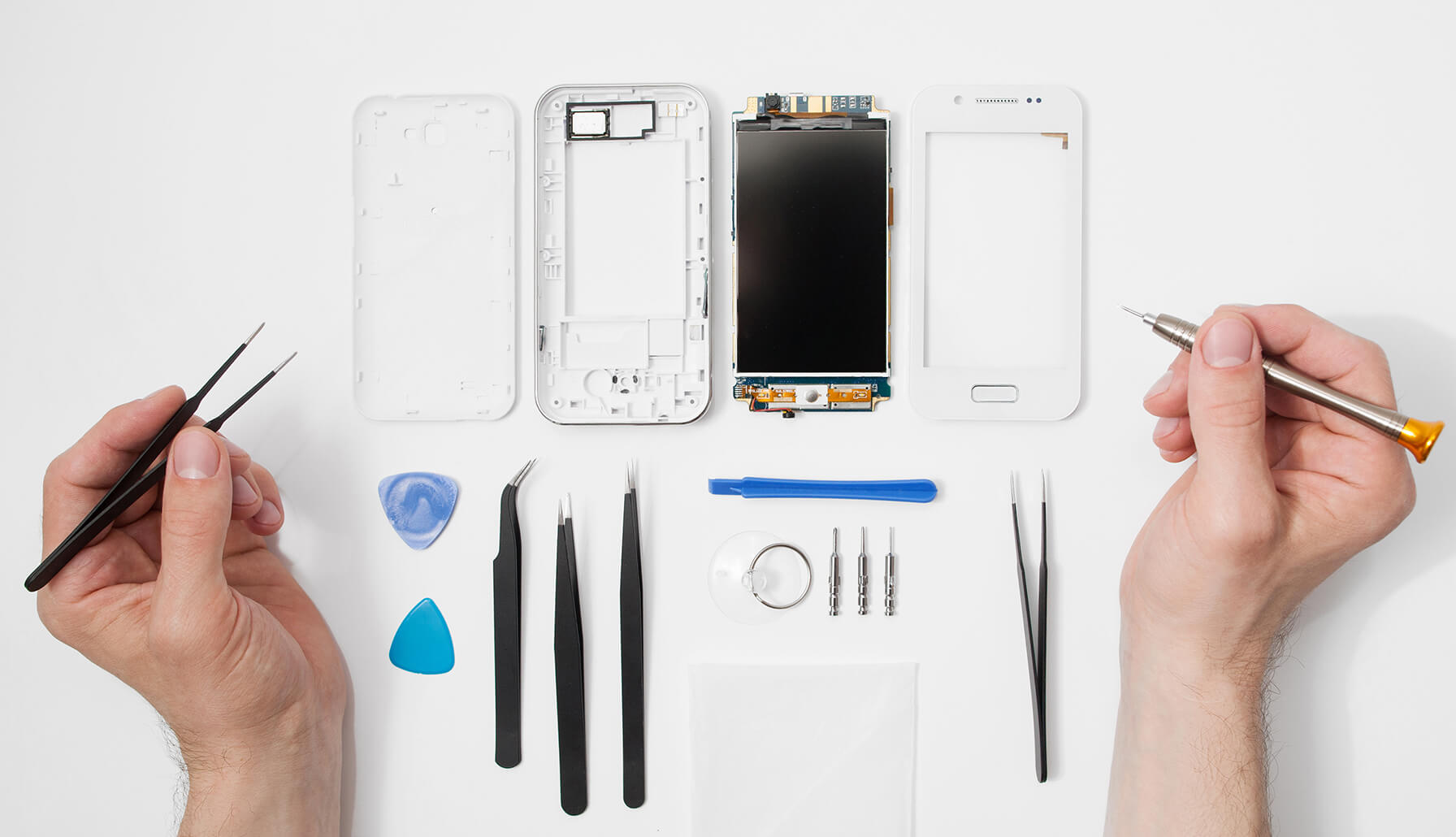 Criticism has emerged that self repairing is too difficult to manage for unexperienced consumers
The Right to Repair
Apple launched its service following pressure from campaigners. Members of the "Right to Repair" movement had been frustrated by the tight control Apple exercised over the process, which they said hurts independent shops and made fixing faults more expensive for users. Right to Repair advocate Nathan Proctor said that the program is encouraging, because Right to Repair is "breaking through," but Apple was exerting too much control by locking parts to a specific device and requiring Apple verification during the repair process. "While this is a start, there are still too many hoops to jump through to fix phones. As it's becoming clear that Apple and other manufacturers can give us the Right to Repair, we should require them to," Proctor comments. "And we should have more options. Not just one set of parts. Not just a few manufacturers. No product should be tossed in the scrap heap, wasting money and adding to our toxic electronic waste problem, because the manufacturer doesn't properly support repair".
Indeed, smartphones and tablets in Europe need to become more sustainable and the Right to Repair can contribute. To achieve this, the European Commission is preparing a legislative proposal, as part of the European Ecodesign Directive, with a view of saving costs for consumers and facilitating the development of a circular economy. This legislation will require manufacturers to provide repair information, parts, tools, software and components to consumers and independent repair providers. This will mean customers no longer have to take their damaged or broken electronic products back to the original makers to get an authorized repair, and can instead fix things like laptops and tablets themselves, or take them to lower-cost independent repair shops.
IT by Design
There has been increasing pressure on tech firms to expand the lifespan of hardware, both for financial and environmental reasons. The issue has gained prominence because of the impact of e-waste on the environment. The annual e-waste mountain continues to pile up and it is key to extend the lifecycle of IT hardware to at least five and up to ten years to drastically reduce the environmental impact. From an environmental perspective, repair is seen as an important element of a circular economy, as it can slow down the use of resources and the flow of materials. Repair is also essential for the uptake of second-hand and refurbished products. From this perspective, Apple's Self Service Repair Store can be considered as a first step. Customers can send replaced parts back to Apple for refurbishment and recycling, and in many cases receive credit off their purchase by doing so. But to become truly circular, providers need go a few steps further. In this context, the importance of IT by Design, based on a modular design of IT devices, is increasing. This will make it possible to upcycle IT hardware to new devices or refurbish them, in order to extend the lifecycle of IT devices.